Shortcut to comments
Day 1 - Friday, June 12th
5:30 a.m.
Beep! Beep! Beep! Alarm is going off. Time to wake up. Go online to check out the rules and I see that I need two forms of ID. License, passport, birth certificate. Well I only have one form. Crap! Now I gotta wait for City Hall to open. So much for my early start! Probably should have read the rules sooner...
8:31 a.m.
Birth Certificate acquired. On to Gillette Stadium
9:31 a.m.
There it is. Mecca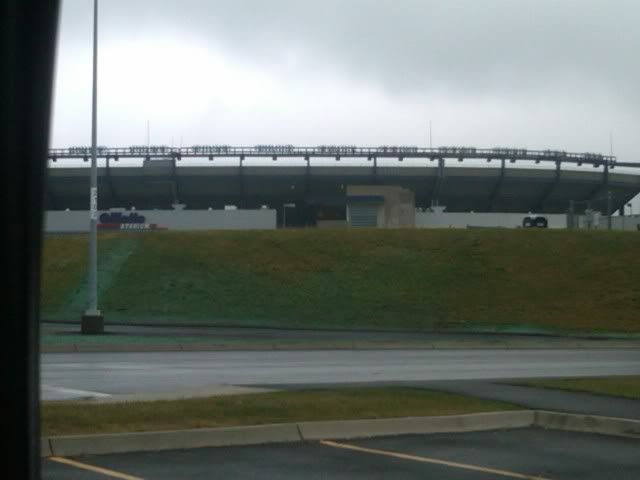 My American Idol Experience
9:32 a.m.
Another picture to piss you off, EP.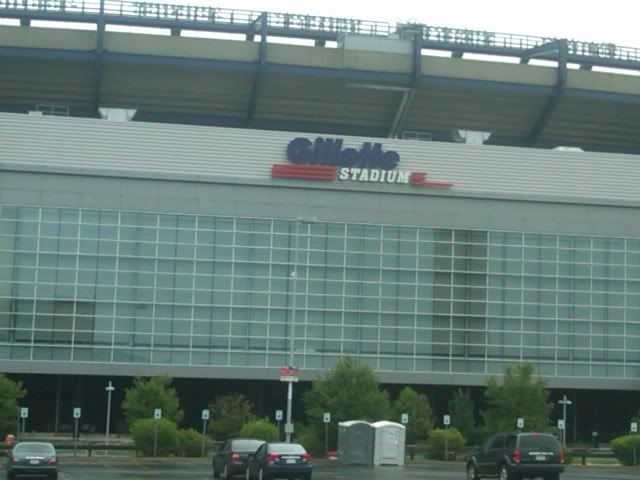 9:33 a.m.
Not nearly as many people as I expected.
9:36 a.m.
That was easy. I went in and walked up to the desk. The girl checked my license (no second form needed, grrrr!), and handed me a ticket and put a wristband on me with the instructions "do not take this off!" I need to comeback Sunday morning at 5 a.m. Yea, this paper wristband should make it to Sunday... Day 1 Complete. I could have gone to work.
Day 2 - Saturday, June 13th
1:30 p.m.
I see that my friend is also going to the audition. I send her a message asking if she wants to go together
7:45 p.m.
Friend calls back in a panic. Apparently they are opening the parking lot at 2 a.m. Sunday. They said we didn't have to be there until 5. She convinces me to meet up at quarter to 2 in the morning. (Remember, this was not my idea)
Day 3 - Sunday, June 14th
2:28 a.m.
Crap!! I overslept. On what could turn out to be the biggest day of my life, I overslept!! Throw on some clothes (good thing I showered and shaved last night before bed) and run out the door. Friend calls, she's running late too.
3:00 a.m.
Meet up with friend at a Dunkin Donuts. It's closed. She's pissed. Drive up to the stadium. Sons of bitches are charging $20 to park. WFT! Vultures. Fuck you, Bob Kraft!
3:26 a.m.
Did I mention that it's raining? Yup, just a drizzle for the moment. This is what the line looks like ahead of me. Damn, there are a lot of people here early...
4:10 a.m.
Ah crap, I have a stage mom behind me. She's going on and on about her daughter and how many competitions she's been in and how many shows she's tried out for. Rambling on and on. All this while daughter is sitting in the car staying dry and wam. Bullshit. I bet the daughter is ugly.
4:40 a.m.
Yup, stage mom has not shutup yet. Between bragging about her daughter and the phone call updates to the daughter in the car at 5 minute intervals, I'm ready to throttle this bitch. It's now pouring out and I'm getting cranky. I bet you the daughter is ugly.
5:10 a.m.
The line moved 15 feet then stopped. Still couldn't ditch stage mom though. She's quieted a little though. Still raining. Still no daughter.
6:02 a.m.
It's starting to let up a bit and the clouds are breaking.
Daughter showed up. I was right, she's ugly. Her and mom are the ones in yellow raincoats. These pics don't do her justice. She's much uglier in person.
6:03 a.m.
The line ahead and behind me, respectively. Can't see the end of the line, but rumor is there are 7,000 registered auditioners. Seems low.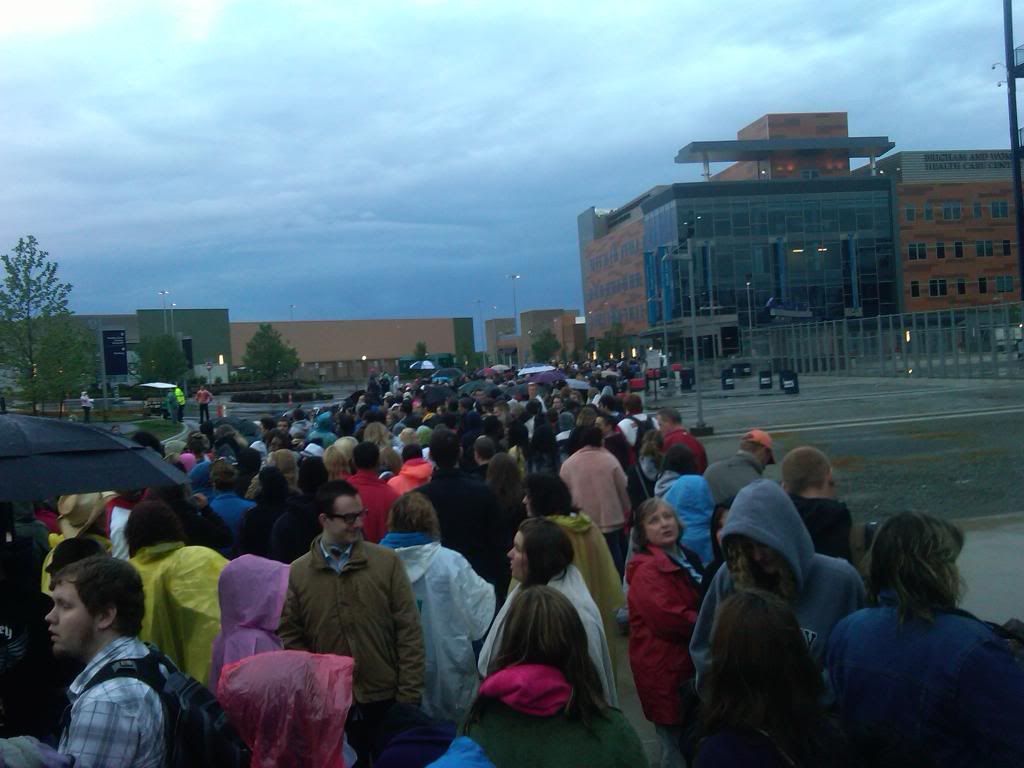 6:43 a.m.
Line hasn't moved at all. Security personnel have come out of the gates though. This could be a good sign.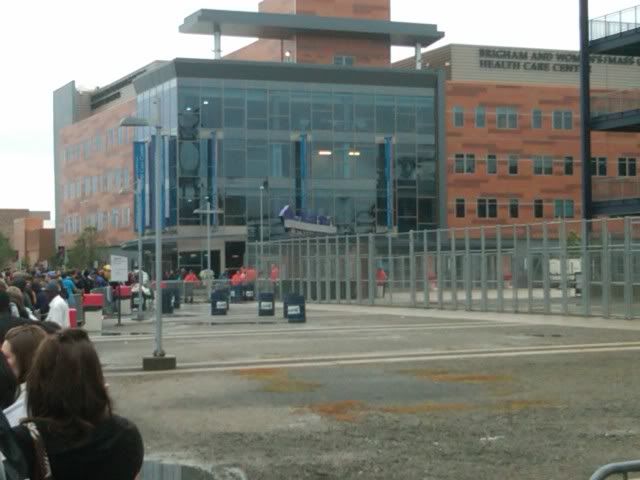 6:45 a.m.
News van from a local station. They aked for volunteers from R.I. to sing (It's a staton out of Providence). No one volunteers. Reporter is stumped. Hilarity...
6:49 a.m.
Finally, they are letting us in!!
7:06 a.m.
They've herded us into an area to take a bunch of crowd shots. I'm officially soaked. The producer on the bullhorn is telling people to spin their umbrellas. Sweet, now I'm getting splashed from every direction and the short people around me almost stab me in the eye. Great idea slick!
8:11 a.m.
After an hour of various chants and crowd shots, they let us go to our seats. Most people are hanging out in the concourse to get dry.
8:12 a.m.
People are slowly drifting to their seats. A producer explains to the crowd that auditions will be held by section number which is on the ticket we got at registration on Friday. Meaning what time we showed up today has no meaning. Glad I listened to my friend and woke up 3 hours earlier than I needed to. (Remember, this wasn't my idea). We decide to split up and head for our seats (we were in different sections.)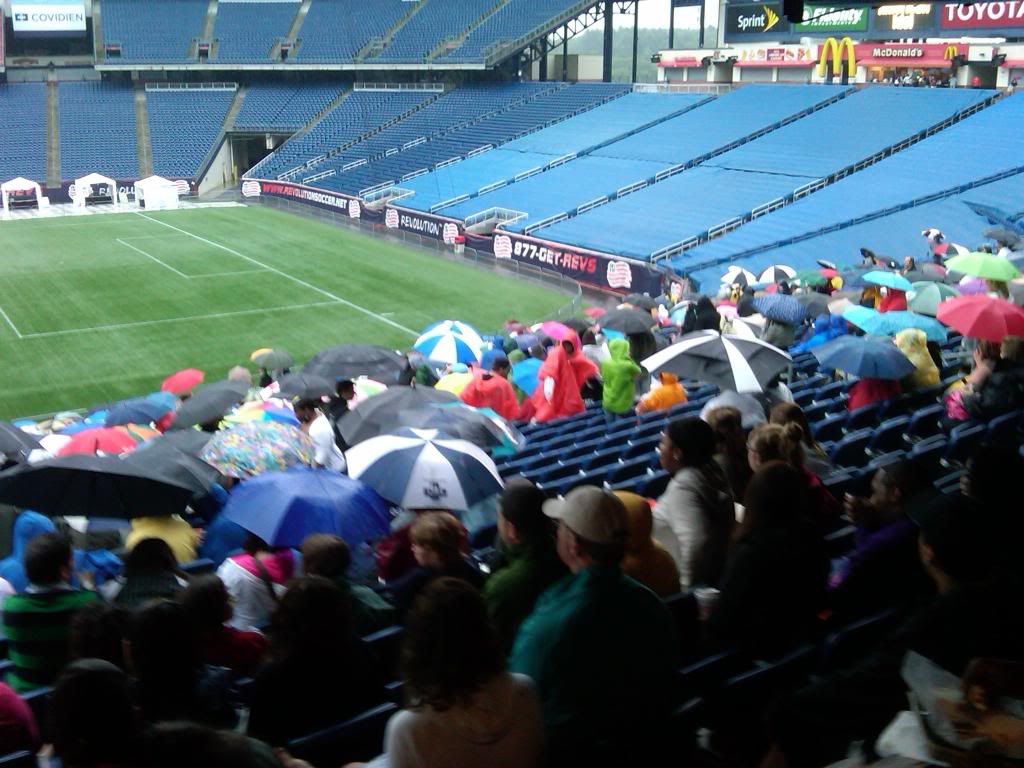 8:13 a.m.
They have tents set up across the field for the auditions. We'll be lining up and brought into the tents in groups of 4. Each person will sing and then the producers will decide our fates.
8:15 a.m.
Another picture to piss you off, EP.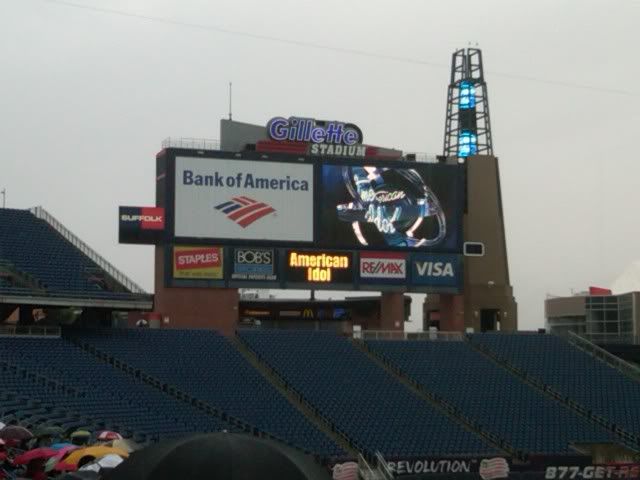 8:26 a.m.
Everyone is being told to take their seats or we can't start. We're also waiting for Ryan Seacrest to arrive. This causes the girls to scream. Why am I here again?
9:18 a.m.
After some crowd shots and group singing (I'm not joking about the singing), Seacrest has finally arrived. He thanks the crowd, says the show wouldn't exist without us, blah, blah, blah. Yes, he is down there in the pic somewhere, but you can't see because of all the umbrellas.
9:21 a.m.
Couple of crowd shots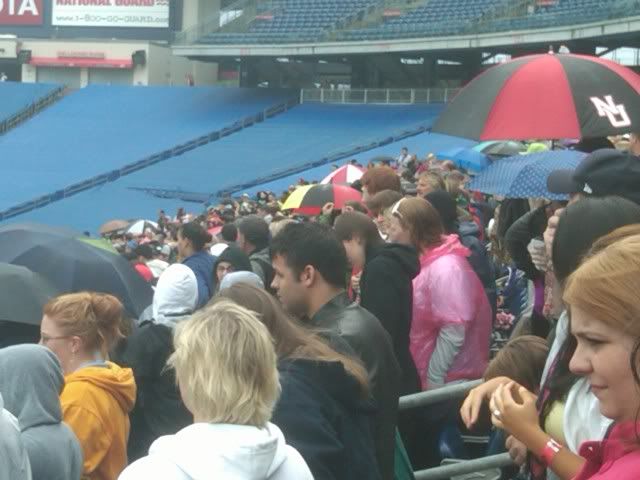 9:44 a.m.
Typical club girl with the stereotypical meathead bodyguard/boyfriend. Her one goal is to get on camera by looking slutty and shaking her ass at the camera. She literallly stands on the seat backs in front of her, facing away from the camera and shakes her ass every time it comes by.
9:49 a.m.
Camera is away, club girl covers up.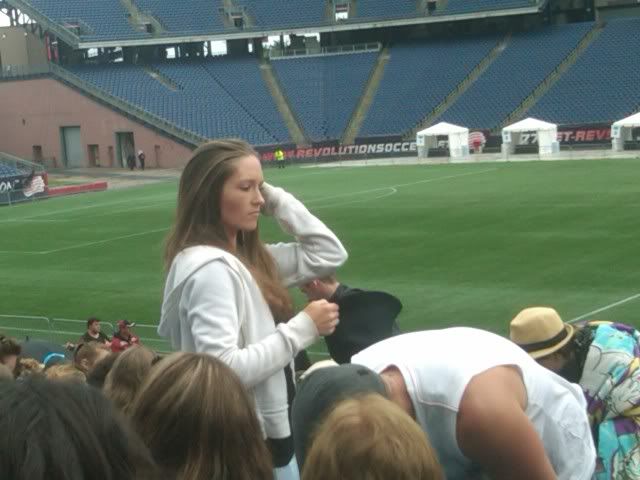 9:50 a.m.
Finally, they begin bringing people down for auditions. Nearly 5 hours after they told us to be there. they start with section 126. I'm in 130.
10:34 a.m.
Some random crowd shots and the tents across the field full of hopefuls.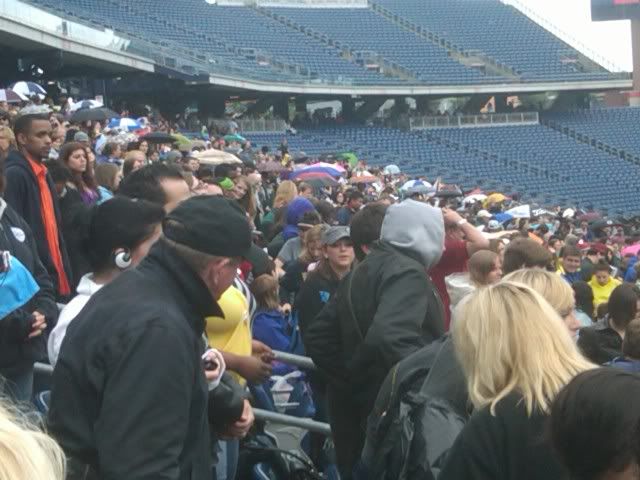 1:36 p.m.
They finally get to our section. 4 hours after they started and nearly 10 hours after my initial arrival. I'm exhausted already and my throat is parched. This should be good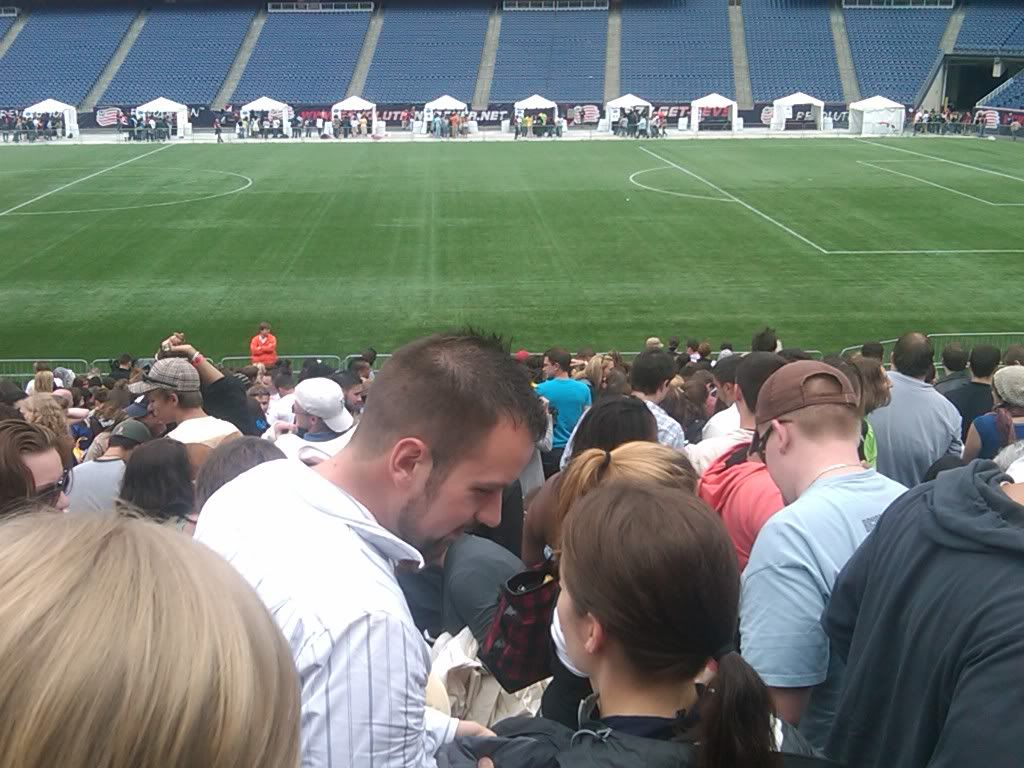 2:01 p.m.
I'm actually standing on the grass of Gillette Stadium. Sadly, this may be the highlight of my day. The grass is so soft... Almost time for the audition. Time to focus.
2:02 p.m.
About half the initial crowd is still waiting to audition. Gonna be a long day for them.
2:05 p.m.
This is the group I talked to for the majority of the time there. The girl in white and the other dude are from Western MA. Girl on the far right is from Dallas. Her plan is to hit a many as these things as it takes. We plan to try to stay together as a group, but some girl jumps back in line cuz she doesn't want to audition with her friends. "It's bad luck" ???? Now I'm seperated from my crew. Great.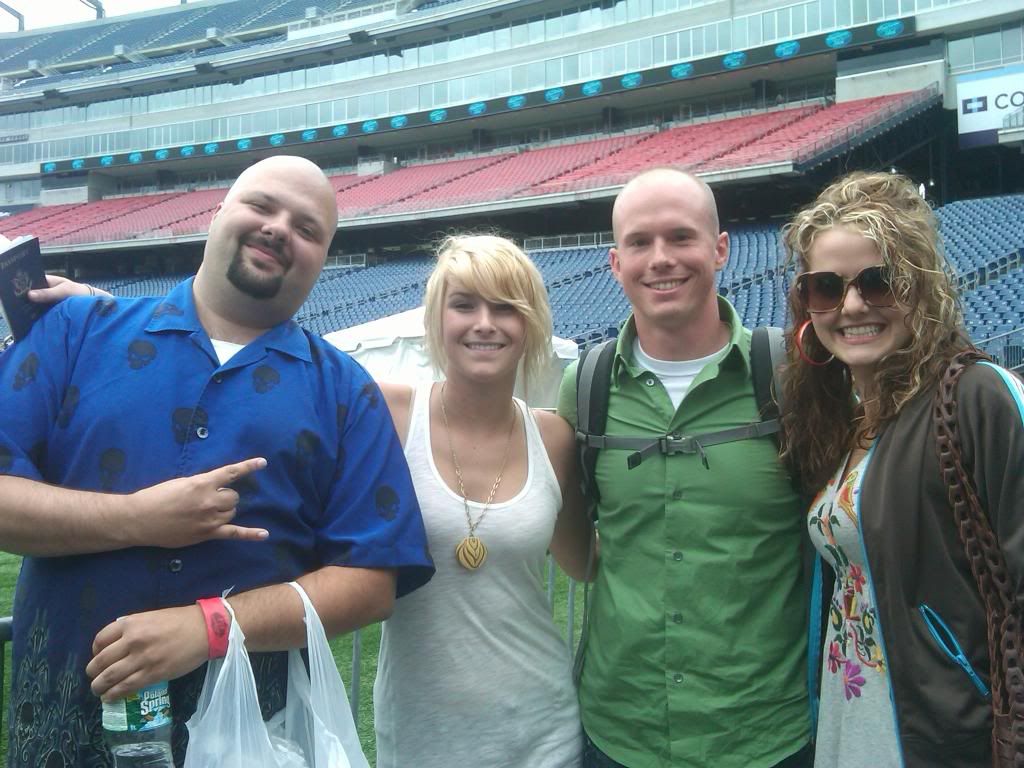 2:18 p.m.
I got assigned to tent #4. That's Bobby Orr's number. A good sign? The two producers are a British dude and an American chick. I hate Limeys...
2:31 p.m.
Girl next to me is an incredible singer. This does not bode well for H.
2:32 p.m.
"Hi, I'm Mike. I'll be singing 'Hey, Jealousy' by The Gin Blossoms..." I start singing, nervous as hell. I can feel my voice crack a bit, but I'm ok. My palms are sweaty. Making eye contact with the two producers. Oh shit, I'm standing still. I'm not doing anything to seperate myself from every other singer here. Crap! Limey producer puts his hand up to signal for me to stop. I waited 12 hours for a 20 second audition.
2:34 p.m.
After a brief huddle, the producers decide to keep the incredible singer next to me, and send the rest of us home. My Idol adventure is over.
2:40 p.m.
The two Western MA people catch up to me. They didn't get through. Dallas girl apparently was incredible and moved on. I'm looking forward to seeing how she does on the show.
Well, that's it. All in all it was hell, but still a cool experience. I met some awesome people, shared a lot of laughs and have a story to tell. Thanks o every one who encouraged me to go through with it.
And for no particular reason at all, here is a Dodge Viper that I saw on the way home.